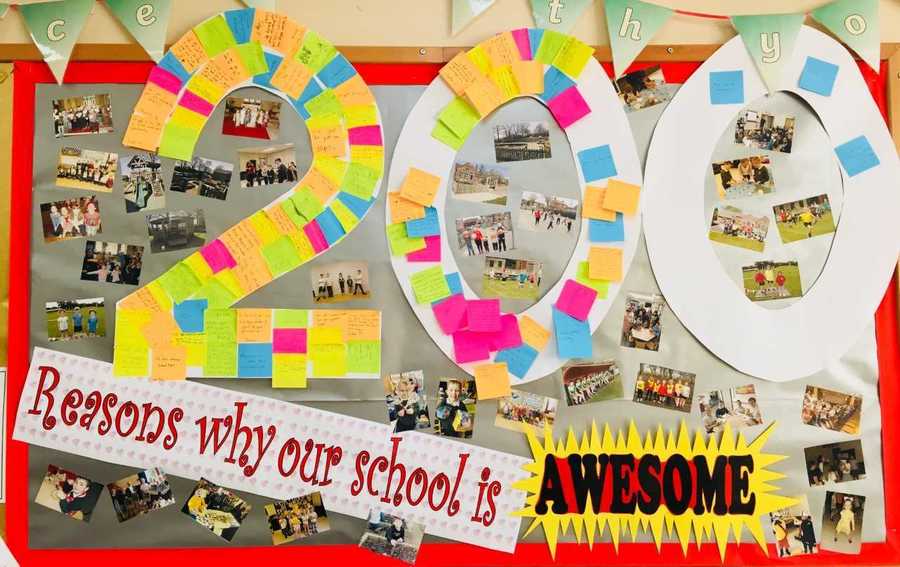 This term we are celebrating 200 years of education in Beeford. We have already started to look at what 200 looks like, with 200 laps of the field, welly throwing to celebrate 200 years of the invention of the welly and 200 reasons why our school is awesome.
If you haven't completed a post-it yet please do bring them in to add to our 200 display. It is lovely to hear all of the positive comments from children, staff, parents governors and friends of the school but do please keep them coming!
We are also selling 200 squares at the cost of £1.00 per square with the winner gaining half of the squares sold. The profits from this will go towards a '200' gift for each child.
The children will be visiting Hornsea Museum in November to get a feel of what schools were like in the past and a thank you to the FOBS for contributing towards the travel costs.
Other celebratory events will include a dress up as someone from the past day, a traditional birthday party for all the children, burying a time capsule and lots of of interesting history based activities going on in classrooms.
Keep checking this page for photos of all the exciting things we've been getting up to!
IF YOU HAVE ANY INFORMATION ABOUT OUR SCHOOL FROM THE LAST 200 YEARS OR ANY HISTORIC PHOTOGRAPHS, NEWSPAPER CUTTINGS OR ANY OTHER INFORMATION WE WOULD LOVE TO HEAR FROM YOU!
Here is some history about Beeford Primary School...
A school may have been held in the church in the mid 16th century.
The private school supported by parents recorded under Beeford parish in the mid 18th century was perhaps the same as that held in a schoolhouse in the north-west corner of the churchyard in 1786. A National school supported by subscription and school pence had been established in the village by 1818. It was attended then by 53 children from Beeford and Lissett and in 1833 by 40 boys and 20 girls. A new school had been provided on the south side of Dringhoe Lane in 1816, perhaps by remodelling an existing building; it may have been used from the outset, as it was later, for the boys.
At inspection in 1871 there were 101 pupils at the school. The site of the boys' school was enlarged by gift of John Stocks in 1870. A new National school for all departments was built in 1880 on land given by the rector on the south side of the street. The new school was enlarged in 1902. In 1907–8 average attendance at Beeford Church school was 131, of whom 27 were infants. Numbers had fallen to an average of 113 by 1913–14 but the infants' department was then reckoned to be overcrowded and in 1929 the building was altered and enlarged and a playing field was provided.
In the 1920s and 1930s there were usually 100 pupils in attendance, but by 1937–8 only 86. Senior pupils were transferred to Hornsea County Secondary School in 1958.