We are going to Forest School … Forest School is really cool!
In the FSU we are really lucky because every week we take part in Forest Schools, which is run by Mrs Robinson. Each week we take a trip to the windy willows and read a different book whilst sitting around the log circle. We then take part in an activity that relates to the book we have read. Taking part in Forest Schools every week links closely to our school's vision statement, particularly 'learning to explore diversity and the mysteries of God's world' and promotes the spirituality of each child. On this page you can follow what we get up to in Forest Schools every week...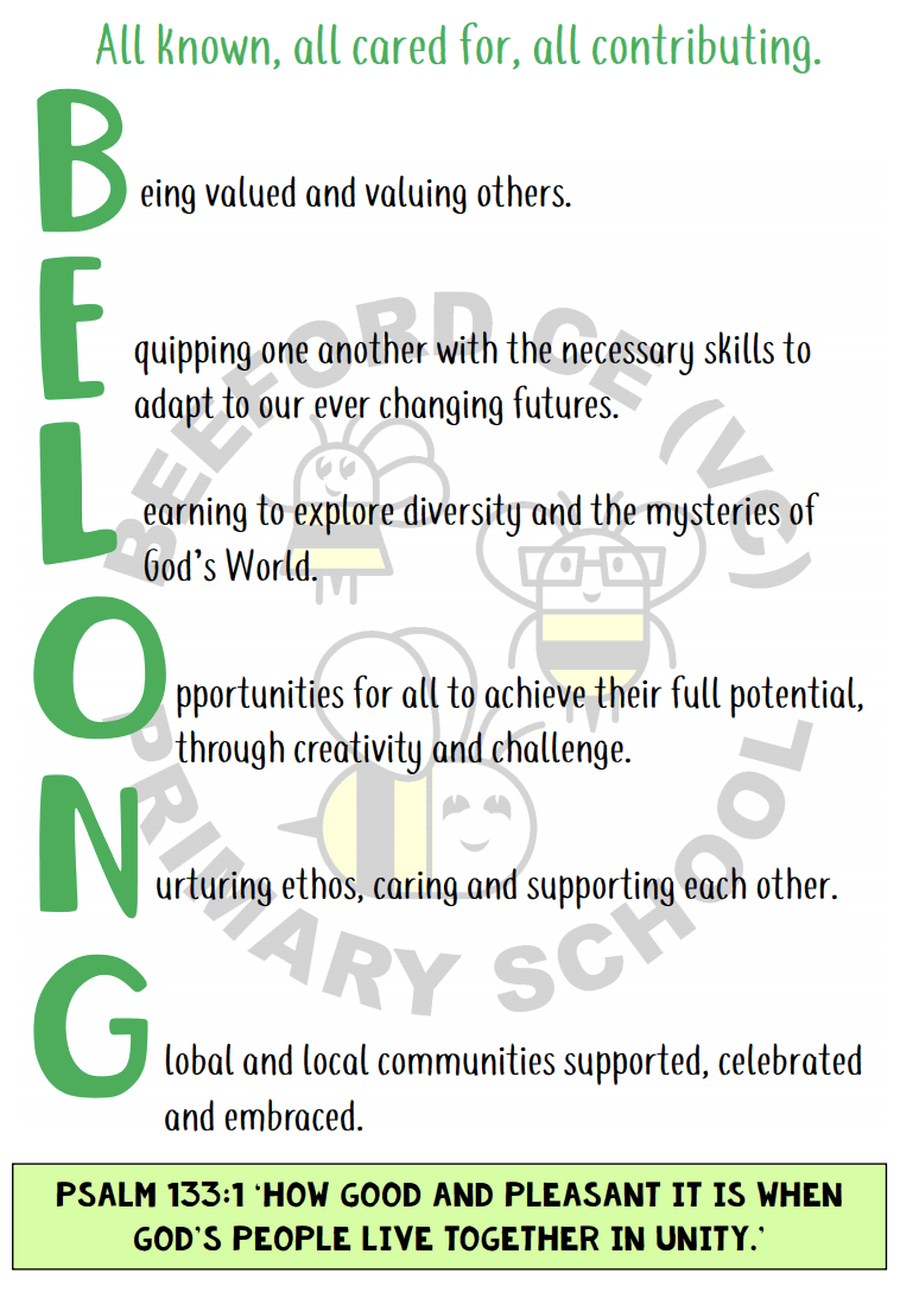 Stick Man
We read the book 'Stick Man' to start off our Forest Schools session this week and then discussed where we think Stick Man would live around our school. Many of us noticed a big tree in the windy willows with a hole in - so we decided this was the most likely option. We then had the task of finding a stick which appeared to have legs and a straight stick to use for arms, in order to make our very own Stick Man! Once we had done this we had the help of an adult to tie the two sticks together and add some eyes, they all looked amazing. We then each chose somewhere we would like our Stick Man to live, some were in trees, some hidden under the stick tipi and others rested near the hedge. worked together as a class to find the best sticks to make a large Stick Man, who is now living in our FSU outdoor area.
Learning to Tie a Knot
This week we have had a go at learning to tie a knot. Once we had all had a turn at trying to tie a knot on the gazebo, we gathered some large sticks and used our knowledge on how to tie knots to make our own dens and put up a hammock! We were very excited to see if we had made the dens big enough for each of us to fit in and it was very funny trying to get in and out of the hammock!
Hunting for Dinosaurs
We were so excited this week because we went on a dinosaur hunt! We received a copy of the local newspaper and read a report that told us a dinosaur had been seen stomping around our school! It was our job to go and hunt for clues; to find out if a dinosaur had really been in our school and what type of dinosaur it could be. We all made our way to the windy willows and noticed on our way that there were some dinosaur footprints, so a dinosaur must have visited! We measured the footprints and they were enormous! Inside the windy willows we found some smaller dinosaurs camouflaged in the bushes and checked them off on our dinosaur sheet. We also found some frozen dinosaurs in their eggs, and had to use a small wooden hammer to free them from the ice! We had so much fun hunting for the dinosaurs and also making the most of the rainy weather by exploring the big hill and splashing in the huge muddy puddles!
Andy Goldsworthy's Art Work
This week, we started our Forest Schools session by taking a look in our Forest Schools book to remind us of what we have done so far. We all sat around the book on the carpet and wrote some words and drew some pictures associated with what we got up to each week - we loved looking back at all of the things we have learnt so far! Rather than reading a book this week, we had a look at some of Andy Goldsworthy's art work and it inspired us to use textures and different natural materials to make our own art! We spoke about what different types of textures we might find outside and came up with some super words including 'rough', 'smooth', 'hard', 'bumpy' and 'soft'. When we got outside our task was to look around the windy willows for things with different textures, place our piece of paper on them and use a wax crayon to rub the paper - we ended up with some fantastic patterns! After this we gathered some leaves and sticks to make our own pieces of art, just like Andy Goldsworthy. To finish our super busy afternoon, we decided to construct a life sized bird nest that each of us could fit in using the materials we had already found and adding some extra big sticks. We were very keen to pose for a photo in our nest at the end!
Hunting for Minibeasts and Bird Spotting
This week we started with a minibeast hunt around the windy willows. Once we had found lots of different minibeasts and looked at them closely, we drew some super pictures of them. We also had lots of bird books we could look at and see if we could find them with binoculars. We were super bird watchers and knew exactly where to look to find them, such as in trees and hedges. We finished by making some improvements to our school's bug hotel. We added some hay and sticks to make it super cosy for the bugs and we spoke about how they hibernate in the bug hotel and what this means.
Lucky Duck
We read the 'Lucky Duck' as a class at the beginning of our Forest Schools session and had a discussion about the different types of birds that the children were aware of. They came up with some fantastic ideas, including crows, owls, eagles and blue jays! We then had the task of trying to spot some of these birds and tick them off of our bird watching sheet, we all sat in a spot near the edge of the windy willows so that the birds could not see us or hear us and used our binoculars to spot them! We saw lots of pigeons and blackbirds, and used our tick list to mark them off. After this, we made some bird feeders using some bird seed and lard, we hung them up on the trees and they looked fantastic! We are looking forward to seeing how much has been eaten by next week. We also painted our very own paper plate birds and added some feathers to make them look more realistic, we spoke about the different features of a bird and how different types of birds look similar or different.
The Gruffalo
This week we started by reading 'The Gruffalo'. We spoke about the different animals in the story and tried to remember the order they came in. On our way to the windy willows we went on a Gruffalo hunt! We saw the mouse, fox, owl and snake... then when we reached the windy willows we found the Gruffalo! Mrs Robinson told us the Gruffalo had spoken to her and explained that his house and the other animals houses had been ruined in the wind, so we had to make new ones for them. We made a log pile at one side of the windy willows and a stone pile at the other. We had to think hard about which logs and sticks were the best for the log pile and which stones and bricks would balance well in the stone pile. We finished by making a cave for the Gruffalo and then we tested if it was big enough by seeing how many children can fit in there. We hope that the Gruffalo and the other animals like their new homes, we worked really hard to make them!
Don't Hog the Hedge
For the first Forest Schools session this term, we read the book 'Don't Hog the Hedge' and spoke about all of the different animals we know about. The children came up with some fantastic ideas about some ways that certain animals are the same and how they are different. We played a game where we were given some clues about different animals and we had to stand by the picture in the windy willows of the animal we thought was being described. After that, we went on a mini beast hunt which was very exciting! We found some worms, slugs and even spotted some birds. To follow on from our story, we decided to make some hedgehog houses. We started with two cardboard boxes and filled them with hay, then decorated them with some twigs and leaves. We then set up a sand tray with some dog food in the middle for the hedgehogs to eat. We discussed where we should put the houses and food so that the hedgehogs could get to it easily and decided that near a hedge was the best place. All of us are really excited to see if any hedgehogs have paid us a visit and will be checking the sand tray to see if we can find any footprints!
Making Bird Feeders
This week we had a trip to the Windy Willows to make some bird feeders! We had to be very careful because we had to use some needles to thread some cotton through pieces of popcorn. We worked in pairs to fill our own piece of thread with popcorn, and then we all attached them together to make one long piece for the birds to eat! We also added some chopped up oranges to the tree because we found out that birds like to eat them. We are excited to see if any birds land on the tree to eat the feeders we made!
Rudolph Decorations
Due to all of us being so excited for Christmas, this week we made some Rudolph hanging decorations. We each had to choose some twigs to use as antlers for our reindeer and then painted our red noses. Once our reindeer were all fixed together we added some googly eyes and then left them to dry. We spoke about how Rudolph is different to the other reindeer and sang some Christmas songs throughout the afternoon. We were very proud of our Rudolph decorations and think that they look very cute!
Magical Wands
For Forest Schools this week we all had a try at making some magic wands! We started by finding a long piece of willow each, then worked with a grown up to make our willow look like a wand with a star at the end. Once we had done this we were able to attach some ribbon and bells before using them to cast some spells and perform some magic in the windy willows! Once we all had a wand we decided to make a magic potion. We all stood around our cauldron and waved our wands whilst Mrs Robinson added some magic ingredients. We couldn't believe it when the potion started to bubble and new colours started to appear - our wands must have really worked!
Down in the Jungle
This week we have celebrated World Nursery Rhyme Week. To fit in with this theme, our Forest Schools session was based on the nursery rhyme 'down in the jungle'. We sang the rhyme as we headed to the windy willows and once we were there we spoke about the different animals that we could find in a jungle. Mrs Robinson passed us some cups one by one for us to smell, each of them containing different animals pieces of washing, including elephants vests and giraffes scarves! Some of them were very smelly and we found it really fun trying to describe what each of the cups smelt like. Once we had smelt each of the cups we had a hunt around the windy willows to find some noses - when we had found these we had to smell around the area and see if we could remember what scent each of them were. We were very good at recognising each of the scents and guessing what kind of animals washing had been hung there!
Fun in the Rain
Due to it being so rainy this week our forest school session started with us collecting some leaves in the windy willows, we were told to find leaves of different shapes and sizes. Once we had filled our bags with different kids of leaves we headed back to the FSU outdoor area to make some leaf plaques. We started by laying our leaves out onto some sand and used a special liquid to pour over the leaves and sand. Mrs Robinson added a string inside the liquid and we left it to dry. While we waited for this, we used the time to splash in some big puddles on the playground! We even added some washing up liquid to them so that we could make bubbles whilst stomping and jumping in the rainwater.
Our Forest Schools Flag
This week we decided to make a flag to represent Forest Schools! But when we sat around the fire circle, we realised we had no paint and no paintbrushes. Instead of going inside to get some paint we came up with the idea of using mud, water and sticks! Our first task was to make our paintbrushes, so we had to find some natural things that we could tie to the end of a stick, such as leaves or grass. Once we had done this we worked together to mash up some mud in a tray with lots of water to make it the same consistency as paint. We used our paintbrushes and the mud to paint our flag - we got VERY muddy but it was so fun! After this, we spoke about what a totem pole was and what kinds of woodland animals we could paint on one of our own. We used our paintbrushes again to paint some animals onto the totem pole with the mud. We were very proud of our flag and totem pole!
Den Building
Even though it was super rainy this week, we still headed to the windy willows in our waterproof clothes ready to make a den! We had the challenge of making a den big enough to fit all of us in using lots of different resources including sticks, waterproof sheets, string and tent pegs. We worked together to find the right sized sticks and the correct materials to make our den secure. After we had finished the den we all sat inside it and had some hot chocolate - it was so cosy.
The Foggy Foggy Forest
In Forest Schools this week we read 'The Foggy Foggy Forest'. After this we discussed what outside looked like in the autumn and spoke about how things looked different in autumn to in other seasons. We then collected lots of autumnal objects including sticks, leaves and grass. Once we had found lots of things that reminded us of autumn we placed them on a colour chart. They were all in a similar place because a lot of the objects we found were brown, red and orange. We then used the leaves we had found to make our own hedgehogs.
Minibeast Bop
This week we started the Forest Schools session by reading 'Minibeast Bop'. We then had a minibeast hunt where we had to see how many different types of minibeasts we could check off our lists. We found lots of spiders, worms and slugs. We even found some eggs under a log, they looked like snails eggs and this made us really excited! After our minibeast hunt we each made our own minibeasts from clay and natural objects such as leaves and twigs.
The King of Tiny Things
We started Forest Schools this week by reading 'The King of Tiny Things' and spoke about how important it is to look after nature. We then had a look around the windy willows to find some colourful thread. When each of us had found two pieces we worked with a partner to make a friendship bracelet, we had to twist the two pieces of thread together really tight so we had to concentrate really hard. The friendship bracelets are a promise to the King of Tiny Things that we will look after animals and other parts of nature. To end the session we all made mini dens for the animals we promised to look after in the windy willows.
We're Going on a Bear Hunt
This week we started our Forest Schools session by discussing what kind of traces animals leave behind and how we can find them. We decided that the best way to find them was to look for footprints and feathers. On our way to the windy willows each of us walked through a sand tray to see what our own footprints looked like. Once we made it to the windy willows we read 'We're Going on a Bear Hunt'. After reading the book we all went on an animal hunt! We found lots of feathers and some footprints, but none of us saw any bears! We then played a game where Mrs Robinson showed us a footprint and we had to run to the animal picture that we think had left the footprint. We were really good at identifying which footprint came from which animal by looking at the shape of the animals feet.
Stanley's Sticks
At the beginning of Forest School this week we read the book 'Stanley's Sticks'. Then we were each given an envelope and spent some time collecting 'autumn treasures' including twigs, feathers, grass and leaves to fill our envelope up. We could recognise autumnal objects by their colours, there was lots of greens, oranges, browns and reds. After this we each had a turn at making our own autumnal crowns by sticking the objects we had found down onto a headband made of card.
Tom's Tree
In our first week of Forest Schools we took a trip to the windy willows and had to learn all about the rules we must follow whilst we are outside. We spoke about how to travel around safely, how we must carry long sticks if we ever need to and how to make sure we look after the creatures we may find. We started our session by reading 'Tom's Tree'. Then we discussed what activities we do inside and which we do outside and what the difference is between inside and outside objects. After this we had a look at a range of objects and decided if they were natural or man made, we decided this by looking at their colour, what materials they are made of and where we usually find them.